In 2003, Franco Ziliani, co-owner of the iconic Franciacorta House Guido Berlucchi (available in BC), acquired Caccia al Piano in Castagneto Carducci, once the feudal hunting estate of the noble Della Gherardesca family. Now managed by Franco's children, Cristina - Arturo - Paolo, the estate is composed of 23 hectares, divided into four crus: San Biagio (Cab. Sauvignon and Franc), Le Grottine (Merlot), Cantina (Petit Verdot, Cab. Sauvignon and Franc, Syrah) and Le Bozze (Vermentino and Sauvignon Blanc). The proximity to the warming sea breezes and the protective mountains assure near perfect conditions for producing world-class grapes.
Organic - 65% Merlot, 25% Cabernet Sauvignon, 5% Petit Verdot, 5% Syrah.. The merlot is sourced from the organically farmed Le Grottine vineyard, with an East / West exposition with soils rich in silt, clay and limestone. The remaining varietals are grown in La Cantina vineyard (close to the estate) on clayey-sandy soils, rich in minerals. Hand harvested. Vinified separately in tanks. Each varietal in aged separately 16 months in large 35 / 50hl oval oak barrels. After blending/bottling, a further 6 months of refinement in the bottle gives the wine harmony and elegance.
Modern, sleek blackcurrant fruit with overt vanilla scent. Juicy, fresh, balanced and very drinkable now with primary fruit that wouldn't be out of place in Napa – although the furry tannin and high acid is firmly Tuscan. 17.5 J. Robinson
An interesting mix of savory herbs and lush flowers with notes of baked black cherries as well. Full-bodied with fine tannins and pleasant, bright minerality. Floral finish. Nicely balanced with good intensity.
92 J. Suckling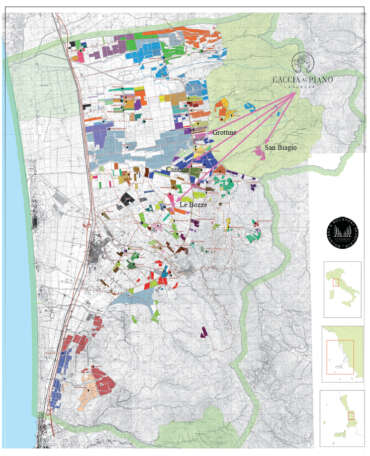 Producer:
Caccia al Piano
Accolades:
17.5 j. Rob, 92 J. Suckling