The Ribeiro wine appellation is located in the north west corner of Spain, in the province of Galicia, in between the valleys created by the Miño, Arnoia, and Avia rivers. The region is surrounded by Rias Baixas from the west and Ribeira Sacra to the east. Ribeiro, or «riverbank» in the Galician language, is the oldest of the five Denominaciones de Origen in Galicia. Ribeiro's position on the banks of the three rivers makes for quite rolling terrain with steep river banks which can be difficult to farm. In landscapes such as these, winemakers often create terraces in their vineyards to make the land easier to farm, position their vines to make the most of the available sunlight and to facilitate access come harvest time. Soils in Ribeiro have quite a high granite content - sabrego is the local word used to describe the decomposed granite soils typically found in the area –often with a loamy, silty texture on the surface.
85% Treixadura, 15% Godello. Skin maceration for a few hours and then gentle pressing. Fermented and aged on its own lees 6 months in tanks.
Fruit-driven nose of green apple and melon with a peachy character. It has an appetizing combination of creaminess and acidity. Silky and pliant in texture, showing good heft and picking up a honeyed element with aeration. It is the perfect choice for various dishes based on fish, seafood, white meat or cheeses.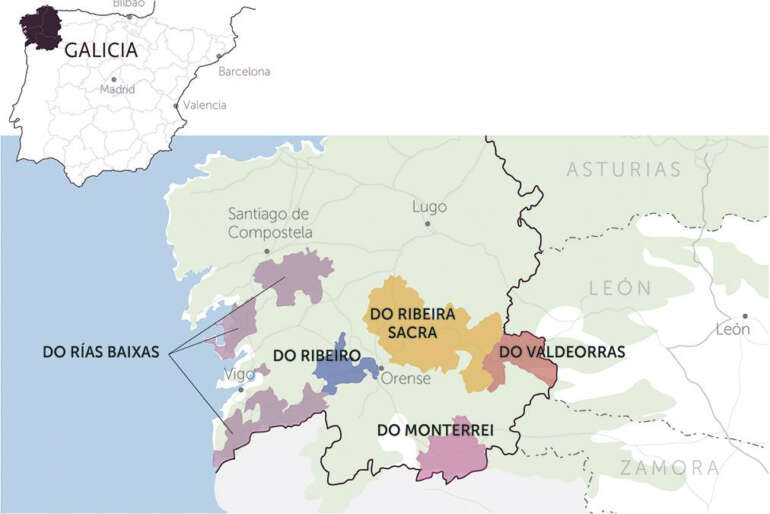 Producer:
Rectoral do Umia
Accolades:
91 Decanter, 90 JS, Gold Bacchus