Berlucchi is an iconic house and pioneer in Italy: it was the first winery to release a metodo classico Franciacorta in the 60's. It has, since then, become the most powerful premium sparkling wine brand in Italy. The Ziliani family also owns the Bolgheri estate of Caccia Al Piano. Certified Organic in 2016, Berlucchi's own vineyards cover over 100 hectares. The three children of the late Franco Ziliani, lovingly referred to as "the father of Franciacorta," now lead the estate.
The name Franciacorta comes from the terms Francae Curtes, name given during the feudal period to the communities of French Benedictine monks who settled in the region to cultivate the vine. These communities were exempted from the princely taxes in exchange for their services. Francae Curtes (franc de taxe in French) therefore means free of taxes. It then evolved through time to the Italian version Franciacorta.
Organic - 100% chardonnay. Assemblage of the cuvée in the spring following harvest, with the contribution of 10% reserve wines aged in barriques and tonneaux. Second fermentation in the bottles and maturation sur lie for a minimum of 24 months followed by an additional 2 months after disgorgement. The lower overpressure in the bottles (5 atmospheres) typical of Satèn endows it with a creamy elegance. RS 7g/l.
This elegant sparkler opens with delicate scents of hawthorn and white stone fruit. On the dry palate, firm acidity and a lively, refined perlage accompany juicy Bartlett pear, white peach and lemon drop before closing on a hint of white almond.
91 Wine Enthusiast
◊ Producer's page ◊ Producer's website ◊
◊ Tech sheet ◊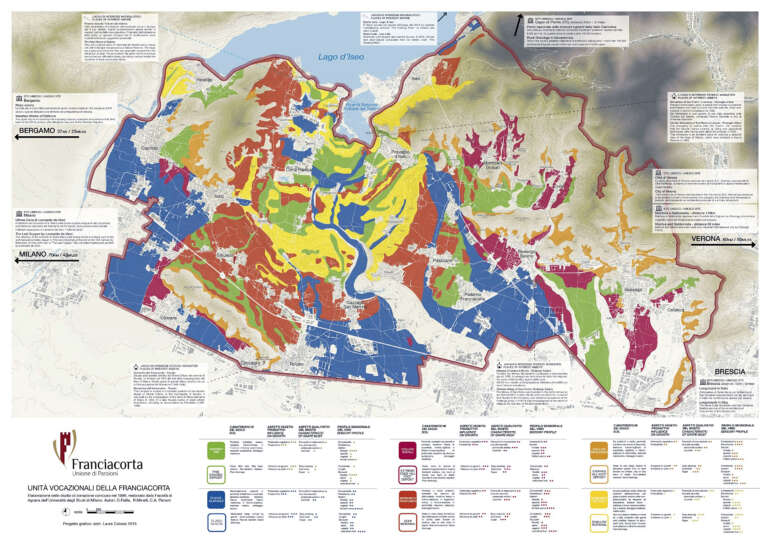 Categories:
Italy,Sparkling
sub category
Franciacorta,Italy