Côtes du Jura Blanc Tradition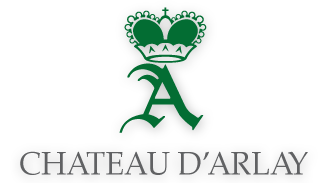 Oldest Castle Vineyard of France, Château d'Arlay has remained in the same family for over 1,000 years. It was owned, at different times, by the Kings of England, then Spain and finally France. Count Alain de Laguiche has been at the helm of Château d'Arlay since the early 1980s.
The organic/biodynamic 25 hectare property (62 acres) is planted with an average of 60 year old vines of Poulsard / Trousseau / Pinot Noir for the reds and Chardonnay / Savagnin for the whites. The rich and complex terroir is composed of limestone and various marls. Their southern facing vines benefit from maximum maturity and are protected from northern winds by the hill and the ruins of the medieval castle. The estate is renowned for its traditional wine-making and long oak barrel ageing. Fresh, complex with amazing ageing potential wines are thus produced. Annual production is approximately 90,000 bottles.
Old vines chardonnay and savagnin that are sharing the same plot ('complantage' in French). Co-fermentation in stainless steel tanks of 30% savagnin and 70% chardonnay. Aged 3 years in used large oak foudres. In order to limit the oxidative character, the foudres are topped up ('ouillés' in French). The wine is not filtered.
Dry and full-bodied wine with a light bouquet of dry sherry, nuts, macerated fruit and overripe apples. Salty finish. Ageing potential up to 20 years. To be served at room temperature (not cold)

Sub-Category:
Jura/Savoie
Producer:
Château d'Arlay