Located on the edge of the Bassin de Thau near the city of Sètes, Florès regroups 70 artisan vigneron families under the supervision of Stephane Roques. Viticulture at Florès is organic. The Florensac terroir is one of the oldest planted vineyards near the Mediterranean. The landscape is dominated by the former volcano of Agde (an outlier of the volcanos of the Massif Central) and Mont St-Clair near Sète. The mixed terrain of garrigue, sand, sea and lagoons is home to a wide array of plant and animal life. A series of vineyard planted low terraces are open to the twin influences of the Mediterranean sea and the Étang de Thau. The latter is the largest in a series of sea-edge lagoons along the coast.
100% sauvignon blanc. Organic. Hand harvest at night. Slow fermentation on lees in temperature controlled tanks. Aged 6 months in tanks.
Classic fruity, grassy sauvignon from the south of France. Intense nose combining aromas of exotic fruits (mango, passion fruit) with notes of boxwood and blackcurrant buds. Fresh, lively and balanced palate leads to a tangy finish, with grapefruit zest. This is quaffing wine!
◊ Producer's page ◊ Producer's website ◊
◊ Tech sheet ◊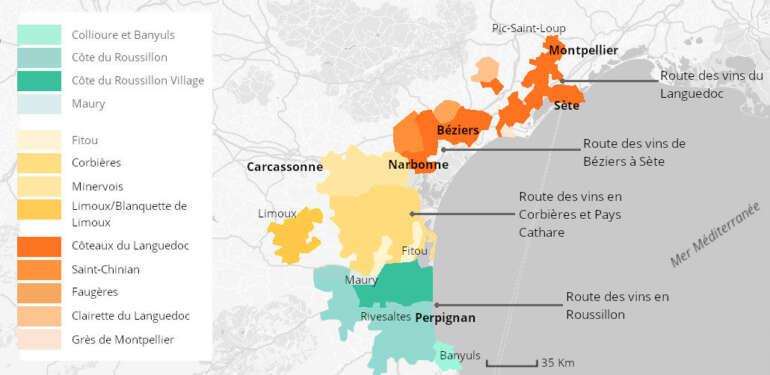 sub category
Languedoc-Roussillon
Accolades:
Silver Medal Paris, 88 Gismondi